Name:
Yoko
gender:
Male
Age:
Unknown
sexual perferance:
Straight
Apperance: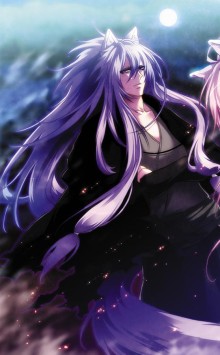 Height:
6'3"
Weight:
202 lbs
Eye Color:
White
Hair Color/Style
: silvery/lavender colored
Complexion:
white but tanned
pet or stray:
Stray
owner:
stray but live on michaels mansion
Breed:
Fox
history:
Little is known bout him he was found by michael at a very young age and taken to the mansion. he still live there and you can say he is in charge of the nekos living there makin sure they behave and if they have any problems or suggestions and such they come to him and he takes it to michael. He was a fighter before michael found him.
likes:
alot of things
dislikes:
rude people. people that hit or abuse their nekos in anyway.
clothing/ collar:
He really like the ancient times wich shows in his dressing
he wears a gray shihakushō, along with a black hakama, held together by a firm rope belt. A black mantle with burnt edges is draped over his shoulders that stay connected together by a Tomoe necklace. His hair is silver colored with a little lavender and is very long and his sidebangs are often put in a tuft. He also have kitsune ears and a long kitsune tail, both being lavender in color